Sterling Silver Celtic Knot Pendulum or Locket Pendant

Moldavite
Sterling Silver Celtic Knot Locket or Pendulum

Plus 7 Chakra Stone Set

$125.00

Moldavite is prized for spiritual acceleration, enhancing intuition, psychic awakening and activation of one's highest purpose.

This is the finest Silver witness Pendulum that we have ever seen. It is fashioned of heavy Sterling Silver into a Celtic Knot pattern. Inside is a Moldavite Crystal to enhance your intuitive abilities

In addition to the Moldavite Crystal, you receive Seven Chakra Crystals that fit exactly into your Pendulum. The Chakra Crystal have been energetically enhanced in our Pranava Energy Activator. Its like having Eight Pendulums or Lockets for the price of one! You can test the Chakras with this set or use a different stone each day of the week to suit your mood.

You may also place other substances into the Pendulum for testing.

The pendulum is 1 inch in length X 3/4 inch wide at top.


Sterling Silver Celtic Knot Pendulum with Moldavite Crystal

Plus a set of Seven Chakra Crystals.

You can insert any of these eight crystals into your pendulum. It is like having eight pendulums.

Locket Pendant

Sterling Silver Celtic Knot Locket Pendant with Moldavite Crystal

You can insert any of these eight crystals into your Locket It is like having eight Pendants..

Set of Silver Moldavite Pendant with Chakra Stones

Set includes 7 Chakra Stones
$125.00

Select Pendant or Pendulum:

Or

Pendant/ Pendulum separate:

Moldavite
Pendulum $99.99

Locket Pendant
$99.99

(Includes Moldavite but Sold without 7 chakra gem stones)

Moldavite Properties click for more information on Moldavite .
Seven Chakra Stone Set
A set of 7 Chakra Stones cut to fit exactly into the Silver Celtic Knot Pendulum. This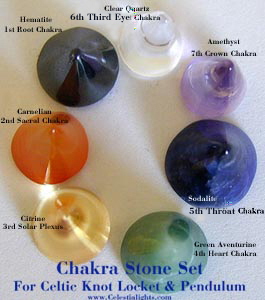 Chakra Stones Set consists of one each:
· Amethyst - Crown Chakra
· Clear Quartz - Third Eye Chakra
· Blue Sodalite - Throat Chakra
· Green Aventurine - Heart Chakra
· Citrine - Solar Plexus Chakra
· Carnelian - Sacral Chakra
· Hematite - Root Chakra
Stones are aprox. 1/2 inch diameter at base.
Metaphysical Properties of the Chakra Stone Set
Hematite 1st Chakra
Hematite is a protective stone. It's energies are grounding, and can help you to connect with the Earth and its beneficial properties.
Hematite is closely tied to the blood, probably due to its iron content. It is said to aid the kidney's blood cleansing function, speed tissue regeneration, and contribute to the overall better health of the blood. This can, in turn, help with the overall health and energy levels of your entire body.
Hematite is called the "stone of the mind". It helps to sort things out and is used for mental attunement and memory enhancement. It provides for a calming atmosphere. Helps to keep the body cool, dispelling heat. It assists in the dissolution of negative energy and helps one to attain a "soft" meditative state.
Hematite is associated with the root chakra and the astrological signs of Capricorn and Aquarius. It is a very grounding stone that enhances focus and stability. It also strengthens one's ability to solve problems. Problems of spaciness and inability to concentrate are very diminished by this stone. Hematite also dispels negativity.
Hematite Clears, Opens and Activates the 1st or Root Chakra.

Carnelian 2nd Chakra Carnelian is in tune with the energies of the Earth. Its strong connection with the Earth makes it a good stone to help keep you anchored and comfortable with your environment. Carnelian's grounding influence allows you to fell settled and more secure.
Carnelian's stimulating energies influence the reproductive organs. This stone has long been used as a fertility symbol for this reason.
Carnelian can also help to stimulate creativity. It seems to have a clearing effect, dispelling negative energies as it replaces them with positive ones. Clears, Opens and Activates the 2nd or Sacral Chakra.

Citrine 3rd Chakra Citrine is known as the "success stone" because it promotes success, prosperity, and abundance. It particularly promotes success in business, earning it another nickname, "merchant's stone", and is said to bring business if put in the cashbox of a shop or carried. Citrine is a stone of good fortune, although it brings good fortune in sometimes unexpected ways. It is a stone of manifestation, helping manifest abundance in many ways. Along with prosperity and good fortune, citrine imparts generosity, to share the wealth, so to speak.
Citrine dissipates negative energies of all kinds. It also does not absorb any negative energies from its surroundings, and thus never needs energentic clearing. Citrine can be used to clear unwanted energies from the environment. Family issues caused by negative energies can also be resolved and cleared with citrine. Since citrine eliminates negative energies, it helps generate stability in all areas, and is good for general protection. Citrine aids in digestion. Citrine also supports a positive self image and strengthens self confidence. Ctirine is a very effective anti-depressant stone.
Opens, Clears and Activates the 3rd or Solar Plexus Chakra.
Green Aventurine 4th Chakra: Aventurine is an excellent protector of the heart chakra. It provides a shield to block unwanted entry. It balances the male/female energies, enhances ones creativity and reinforces ones decisiveness
It carries healing powers of the green Earth. It commonly has shiny silver or pyrite flecks which enhance energy flow.
Green Aventurine heals emotional pain and imbalance by dissolving blocks in the heart chakra.

Sodalite 5th Chakra: The color associated with the throat chakra is Blue. Blue is the symbol of inspiration, devotion, infinity and religious goals. It produces calm and peace. The throat chakra is the focusing point of the spoken word, and the expression of feelings via communication.
Sodalite provides for direction of purpose with lightness of heart. An excellent stone for groups as it provides fellowship and solidarity, companionship and mutual dependence. It encourages truthfulness and trust in others.
Sodalite clears the mind of mental confusion; is slightly sedative. Good for sensitive people, aids in communication and self-expression.

Sodalite is associated with the thyroid and is said to stabilize the thyroid glands. It is perfect in a necklace. Wear it when you want to loose a few pounds. It helps in communicating and will give confidence to speak more. Opens, Clears and Activates the 5th or Throat Chakra.
Clear Quartz 6th Chakra: Clear Quartz is one of the purest and most versatile forms of crystal. It's key word is Clarity---it's high energy frequency clarifies and amplifies one's thoughts. It is used extensively in healing, meditation and spiritual development.
Clear Quartz has the capacity to absorb and reflect all color vibrations within the spectrum of light. This makes it a unique and powerful healing instrument which brings light and energy into our physical and spiritual bodies. The termination tip of a clear quartz crystal is most often colorless while its body is usually a milky white color. This "milky" portion is naturally occurring trapped water vapor and does not detract from the crystal's energies.
Clear Quartz helps one to recognize the origin of a disease or problem and is used in diagnostic healing & raising consciousness. It cuts through mental fog, and dispels negativity, elevates the thoughts, and increases intuitive abilities.
Clear quartz alleviates all emotional extremes, the Third-Eye, Crown and Solar Plexus Chakras are all cleared, aligned, and balanced. The creativity of the second Chakra is balanced with the sensitivity of the Heart Chakra to give feeling to one's creative expression.
Clear Quartz aids the alignment of the Emotional Body with the Etheric Body... this enhances, but does not cause, tissue regeneration.
Clear quartz is a powerful clarifier and amplifier of thought forms, and particularly useful when used with prayer, meditation and affirmations

Amethyst 7th Chakra: Amethyst is the stone of meditation and is useful in spiritual healing. It is also known as the "stone of spirituality and contentment. It has been used throughout time as an aid in promoting sobriety. It also enhances cooperation, imparting a soothing, calming and tranquilizing influence. Keeping a piece by the bedside is believed to facilitate peaceful and insightful dreams.
Amethyst is known in some traditions as the stone of the Seventh Ray — the guiding purple light of the era of awareness we have just entered. It is one of the most broadly helpful and widely used stones, working on all planes of consciousness to gently but powerfully dissipate negativity and discord, rebalance energy and elevate vibrational consciousness. You can wear it, place it around you and use it to make elixirs.

You can relieve environmental stress by placing a cluster or large point between yourself and your office machines, especially computers. Amethyst, often called the computer stone, absorbs into its broad vibrational field the narrow-band electro -magnetic energies of these machines.

Amethyst is an excellent meditation stone, used to strengthen the psychic properties of the higher chakras -- the heart, throat, third eye and crown chakra. Amethyst clarifies the awareness, at the soul's level, that life and death are only transitions of form.