Tree of Life Healing Wand Pendants
Vogel Style Faceting


Beautiful new Pranava™ Kabbalistic Tree of Life Wand Pendants. The faceting of the crystal into the Marcel Vogel style Tree of Life renders them powerful healing wands and amplifies the crystals power to receive, store and transmit energies, and the Pranava Activation™ super amplifies this process.

These beautiful pendants are fashioned after the cut of quartz first created in the early 1980's by Marcel Vogel, one of IBM's leading research scientists and founder of Psychic Research, Inc. Precisely faceted into the shape of the Tree of Life, these crystals are reknown for their healing properties. They may be used as a hand held energy healing tool and a beautiful pendant. Protects the wearer from negative energy. Also available without pendant setting as a crystal mini healing wand.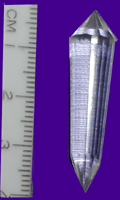 Clear Quartz: Helps to heal the mental, physical and spiritual ailments. Contains all colors to help balance, energize and expand all elements to make us whole and fulfilled. Helps each of us to find our own inner light
Buy now:
Tree of Life Vogel Style Healing Wand Pendant

Size: Crystal wand measures 1 3/4 inch length x 5/8 inch wide (does not include the chain pictured.)
Returns: 100% satisfaction guaranteed. You may return within 30 days of receipt for a full refund of your purchase price. Call for return shipping instructions. (970)229-9167